How can I get free crypto alerts?
100eyes uses the app Telegram to automatically alert all people in the channel whenever an important event happens. It is completely free to use, you can open your Telegram app and search for '100eyes Crypto Scanner (PREVIEW)' or use this link to directly go to the preview channel!
The preview channel sends an automatic message whenever an alert comes in. One of the most useful features is that there is also an automatically generated chart for each of the alerts. The charts are tailored to the alert. For example, in the case of an RSI Divergence alert you will also see the lines that indicate the divergence. Or in the case of a horizontal support zone alert, the chart will show you exactly what that support zone looks like. This is incredibly helpful for beginners, and very convenient for more experienced traders.
In the free version of 100eyes you will get alerts for BTC (Bitcoin), ETH (Ethereum), EOS, and XRP. There are no ads, and you do not need to sign up anywhere. You can simply join the channel and you will be notified each time a new alert comes in. Timeframes of 15m, 1h, and 4h are enabled in the free chat. The alerts that are enabled are: Near Horizontal Support and Resistance, RSI Bullish and Bearish Divergences, 0.618 Fibonacci Retracements, RSI Oversold, Abnormal Volatility Alert, Bizarre Activity Alert (enabled for all coins), and more!
How can I get alerts for all the other coins?
If you want to get free alerts for all other coins as well, you will need to temporarily get a premium version of the 100eyes crypto market scanner. The premium version covers completely customizable alerts. See the image below for an example on how you would be able to modify the settings for an alert. The premium version is completely free for the first 24 hours. You don't need to register in any way, and you don't have to use an email address. All you need is a Telegram account.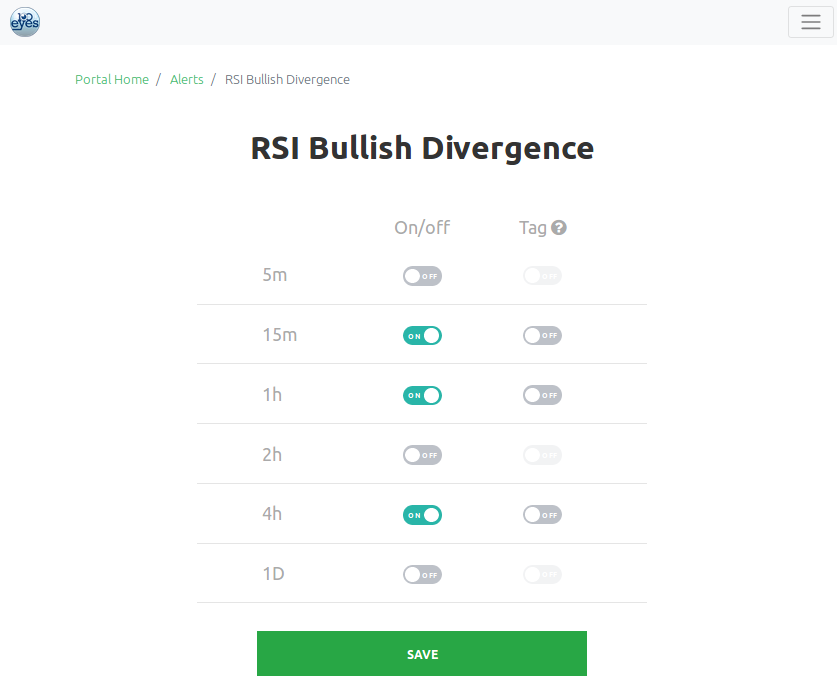 If you are interested in getting a free trial, you need to start a conversation with our Telegram bot. You can either follow this link to start a conversation directly, or search for the bot on Telegram manually. For more information check out our sign up page
What kind of alerts can I get?
Most scanners provide simple volume or rsi alerts, but 100eyes can do much more than this. If you are used to working with a crypto rsi scanner or crypto volume scanner, you will be amazed at the possibilities of 100eyes.
If you are purely looking at volume, there are many free websites that support this as a basic functionality, such as coinmarketcap or binance that will show you all volume of all coins at a glance.
The 100eyes crypto scanner provides powerful alerts that automate a large chunk of technical analysis (TA). It can provide alerts for RSI Divergences, Horizontal Supports, candlestick patterns, Ichimoku Cloud alerts, Fibonacci Retracements, EMA crosses, RSI overbought/oversold, and more. If you want to have a custom made alert, then feel free to contact us so we can discuss your wishes.